Mission:
To provide compassionate care of animals
and inspire character traits compassion and courage in students
Compassion Ranch is the main program of 501 (c)(3) Life Leaders Institute & Ranch combining care of animals and character traits development for students.

Click on the graphic to enlarge (1 sheet, 2 sides).
To make a copy, set your printer to print on both sides and flip the short edge, then fold–or ask for copies: Doc@CompassionRanch.org
Animal Sanctuary & Education Center
38 animals live here getting second chances after abandonment or just needing a home. They have purpose giving back to help the next generation care more, abandon less.
Animals of Compassion Ranch include horses, ponies, donkeys, dogs, cats, goats.
Donors help us provide more and better for the animals plus support programs for students.
Compassion Ranch provides unique programs with animals who help teach life shaping character traits as part of Life Leaders Institute (501 c3). Since 1992, Life Leaders has presented hundreds of public seminars designed and delivered to help students, professionals, and families to PLAN and LEAD in LIFE. Seminars, accompanied by horses, can prove unique and meaningful.
Two partner programs include Plan for School & Life seeking to help parents and teachers help students write plans for school and college-career-character readiness plus Patriotism in Action seeking to help schools, civic clubs, and patriotic organizations teach each November 1-11 the who-when-where of the founding of America's Veterans Day starting in Alabama.
The photo is of Bryant Barn. The previous family operating this farm was Francis and Jean Bryant, then Steve and Pam Bryant. Dr. David Dyson as Triple D Ranch & Farm operates the ranch and donates use of barns and land for use by the animals and programs of Compassion Ranch. Our vision is, we donate land, facilities, and lots of the labor, then partners donate food, supplies, and operating expenses.
We can create a purposeful experience for you, couples, families, or a group of students. You can teach children about compassion by helping them watch you care for animals as a volunteer or donate for food, shelter, or health care. We can help them or you improve personal leadership developing a plan for life or practicing to grow courage, compassion, confidence, cooperation…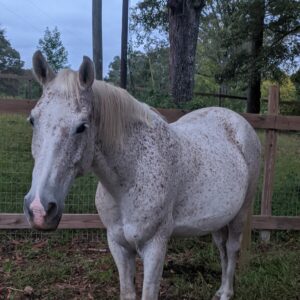 Rehab of Rescued Horses
This beautiful horse weighed 300 pounds less when he was rescued by the Chilton County Sheriff Department "near starvation," assessed by Easterwood Equine Hospital. From 650 pounds at the vet clinic, he gained to nearly 1000 pounds in his recovery with us and healed from extreme "rain rot" on his skin.
Two by Two Rescue sponsored vet care for him and his herd mate. Volunteers visited for weeks to help give medicated baths.
We now call them Lancelot and Braveheart. They are among almost 40 animals, who eat 10,000 pounds of hay and feed per month! Many of the animals needed to recover mentally to restore feelings of trust and security as well as physically for food and/or surgery.
They help us show and teach character traits courage and compassion to visitors online and in person. Sometimes, you can "see" a child thinking of past behavior or observed behavior in adults when seeing before and after photos or hearing stories of a horse recovered from near starvation or a dog left tied to a tree.
Sponsors and donors help us feed and care for animals plus provide programs to work at the root causes of animal neglect and abandonment–education, beliefs, and habits of students who become adults. We teach and provide resources to teachers that build upon character traits mandated in Alabama and other states–courage, compassion, cooperation, perseverance, and patriotism.
We have worked with law enforcement to rescue animals, get some home to their owners, and investigate possible neglect. We dream of having resources to help impact more common sense laws requiring people to provide ethical care. For most people, education about standards will help. For some, they seem to require accountability to stop fighting or killing animals for entertainment, keeping animals tied to chains or other types of tethers, or to provide safe fencing and shelter, especially in extreme temperatures.
Character Traits & Personal Leadership

Kids of Camp Rockhurst sponsored by Simon Cyrene Foundation visited multiple times for their camp ranch days, led by Terry Slaughter.
We love sharing the horses and land to help people develop capacities of personal leadership, including 7 of the 25 character traits mandated since 1995 to teach in Alabama schools. We focus on courage, compassion, cooperation, citizenship, patriotism, perseverance, and loyalty,
Crockett (senior Tennessee Walker) needed a home after his owner died. The wife provided him to an adoptive family, though Crockett didn't quite fit their needs and had health concerns. We wanted to help though had to pause because we already were feeding 30 animals.
Terry Slaughter pledged to sponsor Crockett's boarding, which helped us bring him here to live. This example of compassion for a senior horse helped show a real-life example to his grandkids and ministry kids of Simon Cyrene Foundation.
Alabama mandated teaching character for at least 10 minutes daily over 25 years ago. We want to do more as part of the solution supporting educators and parents.
Do you also want students to develop more inspiration about the people they want to be?
Do you also want fewer people to abandon animals? Most abuse is by former students.
You can help us do the work and/or support us to increase our ability to work and train others. We can offer more events and online resources, plus support parents and teachers. Sponsors can support children, groups, classes, and families for programs, events, equine-assisted coaching, or making wishes come true for children or adults.
Guest Teacher or Speaker
Dr. David Dyson can host students, teachers, and parents or visit schools to teach or support faculty and leaders. He can teach, speak, or serve:
The Animals of Compassion Ranch
Alabama character traits
Veterans Day Started in Alabama
Personal Leadership
Students write Plans for School and College-Career-Character Readiness.
You can review his menu for options, and request desired results: Doc@CompassionRanch.org
"I cannot thank you enough for the sacrifice of your time and money to make an impact on our campers. They loved it!!!! We all did. your entire team (humans and animals) were amazing and the day was magical!!! What a blessing it was indeed."
-Terry Slaughter-