Mission:
To provide compassionate care for animals plus
educate and inspire compassion, Courage, and citizenship in people.
Compassion Ranch is a nonprofit program of Life Leaders Institute (501c3).
You can visit the animals, donate for animal feed and care, sponsor character-building programs for students, or create an experience for you or family.
Sanctuary for Animals
Buck, rescued as a puppy after he was abandoned, has grown to be our our biggest dog in the pack. The other rescues found us after being "dumped" and one we rescued after found tied to a tree for days left to die.
We clearly need more compassion in some of our former students!
We focus on compassionate care and on improving root causes of the problem of abandonment–character in former students. We focus on horses, though we also have dogs and cats living here. Our facilities for them are full, and they still need food, care, and spaces.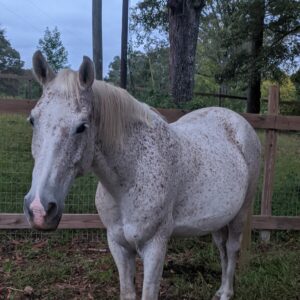 Horses, ponies, donkeys
Lex was rescued by the Chilton County Sheriff Department "near starvation" assessed by Veterinarian Dr. Jud Easterwood. Lex came to us for rehab and gained 275 pounds!
Lex is one of 30+ animals, who eat 10,000 pounds of feed per month! They help us show and teach character traits like courage and compassion to students, families, and online visitors.
Sponsors and donors help us feed and care for animals plus provide programs to work at the root causes of animal abuse–education, beliefs, and habits. We teach and provide resources to teach that build upon character traits mandated to teach in Alabama and other states–courage, compassion, cooperation, citizenship…..
We can have impact now as well as influence the next generation.
Character-building events for Students
Kids of Camp Rockhurst, sponsored by Simon Cyrene Foundation, got an added experience during their Compassion Camp–a hayride pulled by a classic antique Farmall tractor driven by Steve Bryant and Bennett Camp Rockhurst was our first group of students to visit for enriching experiences and character development.
We love sharing the horses and land to help people young and old learn more of courage and compassion. With your support, we can offer more events as well as online resources. Sponsors can support individual animals, programs, events, equine-assisted coaching, or making wishes come true for children.
Life Leaders Institute has presented over 100 group classes with Veterans Making Comebacks and hundreds of seminars designed to help people PLAN and LEAD in LIFE. To do similar work, accompanied by horses, can prove unique and meaningful.
"I cannot thank you enough for the sacrifice of your time and money to make an impact on our campers. They loved it!!!! We all did. Your entire team (humans and animals) were amazing and the day was magical!!! What a blessing it was indeed."
-Terry Slaughter-
Founder, Camp Rockhurst and Simon Cyrene Foundation
(sponsor of a Compassion Ranch horse)