Mission:
To provide compassionate care of animals in forever homes
and inspire character traits compassion and courage…in people
Compassion Ranch is a nonprofit program of Life Leaders Institute & Ranch (501c3) that combines care of animals and character traits for students.
You can visit the animals online and in person or create an experience for you or family, enjoy and help care for them, donate for feed, medical supplies, vet care and shelter, sponsor character-building programs for students. Read The Animals of Compassion Ranch to see photos and learn why they need us.
Sanctuary & Education Center
15 horses, ponies, and donkeys get food and forever homes and give back in our programs–online and when you, families, or groups visit. Including dogs, cats, and goats, 32 animals are in our Compassion Ranch program.
Compassion Ranch provides care for animals in need plus education and experiences to help solve root causes of the problem of abandonment. We focus on horses though also have dogs, cats, and goats who needed homes, too.
Donors help us provide food, care, and shelter for the animals.
Compassion Ranch provides unique programs with animals who help teach life shaping character traits as part of Life Leaders Institute (501 c3). Since 1992, Life Leaders has presented hundreds of seminars designed to help people PLAN and LEAD in LIFE. Similar seminars, accompanied by horses, can prove unique and meaningful.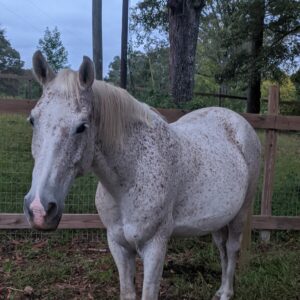 Rehab of Rescued Horses
Lex was rescued by the Chilton County Sheriff Department "near starvation" assessed by Equine Veterinarian Dr. Jud Easterwood. Two by Two Rescue sponsored vet care for Lex, then he came to us for rehab. He gained 275 pounds and healed from "rain rot" on his coat!
Lex is one of 30+ animals, who eat 10,000 pounds of food per month! They help us show and teach character traits courage and compassion to visitors online and in person.
Sponsors and donors help us feed and care for animals plus provide programs to work at the root causes of animal neglect, abandonment, and abuse–education, beliefs, and habits of students who become adults with animals. We teach and provide resources to teachers that build upon character traits mandated in Alabama and other states–courage, compassion, cooperation, citizenship, loyalty, perseverance, and patriotism.
Character-building Events & Education

Kids of Camp Rockhurst, sponsored by Simon Cyrene Foundation, visited wo years for their ranch day, led by Terry and Jennifer Slaughter. We love sharing the horses and land to help people young and old learn more of courage and compassion and develop their capacities.
Crockett needed a home after his owner died. Terry Slaughter pledged to sponsor Crockett's boarding, which helped us bring him here to live.
With your support, we can care for the animals already here needing forever homes plus we can offer more events and online resources. Sponsors can support individual animals, programs, events, equine-assisted coaching , or making wishes come true for children and adults.
Dr. Dyson can host, visit schools to teach, consult, or support faculty and leaders to start or improve programs that help students boost plans for school and college-career-character readiness, which boosts attitude and achievement. And, he can serve as speaker for civic clubs or events. You can review his professional menu for options.
"I cannot thank you enough for the sacrifice of your time and money to make an impact on our campers. They loved it!!!! We all did. Your entire team (humans and animals) were amazing and the day was magical!!! What a blessing it was indeed."
-Terry Slaughter-
Founder, Camp Rockhurst and Simon Cyrene Foundation
(sponsor of a Compassion Ranch horse)