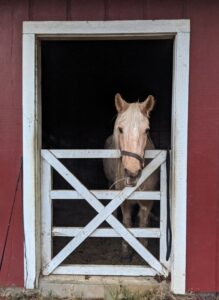 Each animal has a story of challenge and victory
getting second chances and inspiring people.

The Animals of Compassion Ranch (PDF)

Each animal needs food and care, shelter and space, purpose and love. Volunteers, donors, staff, and people visiting in person and online drive the Compassion Ranch program to care for animals and inspire more care from people.
Compassion Ranch is one of three key nonprofit programs of 501 c3 nonprofit Life Leaders Institute. The other programs–Plan for Life and Patriotism in Action–complement by helping people write plans for school and 7 areas of life, including how to develop and live with desired character traits and personal leadership habits. Patriotism in Action leads on history and character education associated with starting America's Veterans Day in Alabama, plus leads the Pledge of Allegiance for events at the ranch, often supported by horses who bow.
Student development improvement is key to improving animal care, first by stopping abuse and abandonment. Former children and students become adults, and some abandon animals.
Online and in person, we can influence future animal care givers. You can have impact with us.
Join us or learn more: Dr. David Dyson
Donate to support feeding an animal or group each month.
Sponsor a program for students.
Host a party with purpose (fun & learning) for kids.
Share your bucket list goal or idea we may do together.
Animals of Compassion ranch:
HORSES
Name, breed & year born (known or guess), year came home:
1. Star aka Star of the Bar, Quarter Horse: 2003, sold at auction, needed permanent home. DDD 2007
2. Patriot aka American Patriot aka Anakus Flynn, Morgan: 2001, elderly owner wanted good home for him. DDD 2007
3. Indy aka Indian Legend, Paint: 2008, born to mare rescued from "kill pen", not wanted at birth. DDD 2008
4. Cody Bryant: 2000, previous farm owners Francis and Jean Bryant died. DDD boarded 2017.
5. Princess Katie: 2010, boarded Steve & Pam Bryant 2017.
6. Scarlett Baye: 2010, rescue from starvation by Two by Two, foster care Parmley, to Triple D 2019
7. Crockett aka Davy Crockett: 1996, owner died, needed lifetime home, sponsored by Terry Slaughter 2020
8. Lancelot aka Lex & Caspian: 2010, rescued from starvation by Deputy Sheriff, Two by Two, DDD 2020
9. Brave aka Braveheart, Lou & Twister: 2014, rescued from starvation by Sheriff, Two by Two, DDD 2020
10. Spirit: 2017, neglected without winter hay, rescue Triple D with Karen Stone 2019
11. Storm: 2018, neglected without winter hay, rescue Triple D with Karen Stone 2019
PONIES
12. July aka Janis-July: 1997, infected hooves not trimmed in 5 years, rescue by Two by Two & Triple D 2020
DONKEYS
13. June aka Granny: 1995, owner died, needed food DDD 2010
14. Jill: 2010, rescued after owner died, DDD 2010
15. Honk: 1995, previous farm owners Francis and Jean Bryant died, boarded by Steve Bryant with DDD 2017
DOGS
16. Cowgirl: Australian Shepherd/Border Collie, 2014, abandoned/rescued 2015 DDD
17. Lady Bug: Jack Russell mix, circa 2010, abandoned/rescued 2015 DDD
18. Chief: Shepherd, 2018, abandoned, rescued 2018 DDD
19. Annie aka Annie Oakley: Shepherd, 2018, homeless after owners arrested 2019, rescued 2/2020 DDD
20. Rambo: Husky/American Bull Dog, 2018, tied to tree in woods 3 days without food or water, rescued 2020 DDD
21. Cowboy: Husky/Australian Shepherd, 2018, rescued 2020
22. Triple D: Labrador-Husky, 2020, rescue 2022
CATS
23. Night aka Mama Cat: 2010, feral, rescued 2010 DDD
24. Bella
25. Tux
26. Panther
27. Midnight
28. Diamond aka Spike
29. Angel
30. Barney (feral, feed in a horse barn stall) 2020
31. Stormy Magic 2021: rescue from abandoned lot 2022
32. Tabitha Socks 2021; rescue 2022
GOATS
33. Billy Pygmy: 2019; surrendered 2021
34. Bendi Goat: 2020, surrendered 2021
Possible after funding
after more budget for shelters, food, care
36. Horse #4 in the North Pasture
37. Horse #1 in South entrance corral (after built)
38. Horse #2 in South entrance corral
39. Cat #1 at the North Pasture shelter (after catio/door)
40. Cat #2 at North Pasture catio/feed room
41. Chickens to lay eggs for dogs and people (after coop)
Rest in Peace
Cocoa: Quarter horse mare from Bryant Family circa 35
Buck: Pyrenees/Retriever dog rescued from animal shelter
Starcat: Cat born to ferals rescued & lived 10 years.
Johnny Cash: Goat came in sick though lived months.
"The godly care for their animals,
but the wicked are always cruel."
Proverbs 12:10