You are invited to:
follow on Facebook: Compassion Ranch.
follow on Instagram: Compassion Ranch.
follow on YouTube: Compassion Ranch (playlist of Dr. David Dyson).
visit to meet the animals.
receive a briefing about the animals, purpose and plan–phone, lunch or coffee.
send a message by email or call with ideas, questions, or expressions of interest.
request an event for you, your family or group, teachers, students, nonprofit….
donate to feed animals (most feeds cost $25 or $50 though any monthly donation supports).
donate to sponsor programs to educate students to develop compassion, courage…character traits to reduce animal abandonment now and in the next generation.
subscribe to receive progress and plans via email (new, bottom left of most pages).
Together, we can improve life for animals and people.
~David
Doc@CompassionRanch.org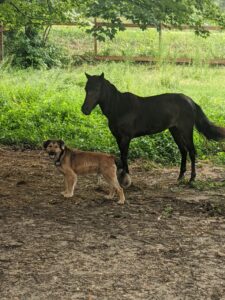 Email
Phone
205.422.6484
location
Mailing address:
Compassion Ranch
Attn: Dr. David Dyson
354 County Road 33
Calera, Alabama 35040
Central Alabama. North Chilton County near Highway 31 and I-65 within 5-7 miles of Calera, Jemison, and Montevallo, 3 miles from Highway 31 near Highway 155.
Someone is here 24/7 though host by appointment because the front gate stays closed most of the time to protect animals until we have guests. Dogs play and rest out in the front corral. Horses come in to graze the grass. Plus, we could be working on a project so appointments help us make sure we are ready for you.
We host guests most Saturdays and often on other days. We usually in the office 7-noon and work outside afternoons. Tell us what works for you. We can send directions, which may prove better than GPS.