You are invited to:
follow on Facebook: Compassion Ranch.
follow on Instagram: Compassion Ranch.
follow on YouTube: Compassion Ranch (playlist of Dr. David Dyson).
visit to meet the animals.
receive a briefing of animals, purpose, plan–via phone, lunch, or coffee to learn if you want involvement.
send a message by email or call with ideas, questions, or interests.
request an event for you, your family or group, teachers, students, nonprofit….
donate to feed animals (most feeds cost $25 or $50 though any monthly donation supports).
donate to sponsor programs to educate students to develop compassion, courage…character traits to reduce animal abandonment now and in the next generation.
subscribe to receive progress and plans via email (donors get mail from David).
Together, we can improve life for animals and people.
~David
Doc@CompassionRanch.org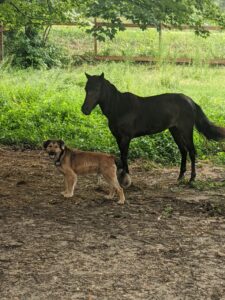 Email
Phone
205.422.6484
location
Mailing address:
Compassion Ranch
Attn: Dr. David Dyson
354 County Road 33
Calera, Alabama 35040
Location:
Central Alabama. North Chilton County near Highway 31 and I-65 within 5-7 miles of Calera, Jemison, and Montevallo, 3 miles from Highway 31 near Highway 155.
Compassion Ranch is a nonprofit program:
On some records and maps the property is listed as Triple D Ranch and Farm owned by Dr. David Dyson. Triple D is a homestead, ranch, and farm that donates use of the 32 acres and farmhouse, horse barn, and hangar for the animals, partners, and visitors. Compassion Ranch is the nonprofit program, and for awhile Triple D is the place.
How and when to visit:
Someone is here 24/7 though host visitors by appointment because the front gate stays closed most of the time. Dogs play and rest out in the front corral. Horses come in to graze the grass. We could be working on a project so appointments help us be on site and ready for you.
We host guests, most often in the afternoon. We usually work in the office 7-3 p.m. and outside 3-7 p.m. for projects, chores, care and feeding then social media posts and replies to people. Tell us what works for you, and we will try to accommodate.
GPS helps though this may get you here faster:
The frontage of the property on CR 33 runs a half mile and the main gate is near the center close to the farmhouse and barn. The main gate is about 3/10s mile from Highway 155 and 3 miles from Tin Top BBQ at the corner of Highway 31 and CR 33. Sometimes, GPS takes people to the southern border near Highway 155 as the location of 354 though the main gate is 3/10s mile toward Highway 31. Landmarks on the property include red and white barn, US Flag on lighted pole, and farmhouse.
What we do and don't do:
Compassion Ranch stands for compassionate care of animals and character traits of students developing courage, compassion, cooperation, and patriotism.
A few things we stand against by not allowing on the property include drugs, cigarettes or other smoking, hunting, or not following rules for animal and human safety.
Interesting:
County Road 33 once was part of Highway 31.