National Veterans Day Parade in Birmingham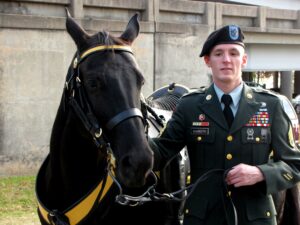 National Veterans Day Parade in Birmingham
National Veterans Day Parade in Birmingham
riderless horses at arlington National Cemetery
The riderless horse presented in funerals and parades is a time-honored tradition made famous by The Old Guard serving Arlington National Cemetery. The riderless horse is also called a caparison horse. At Arlington, the Cap Walker leads the cap horse. Ft. Myer connects to and serves Arlington.
Compassion Ranch honors this tradition and teaches students when we host programs at the ranch or support service of horses in the Birmingham parade.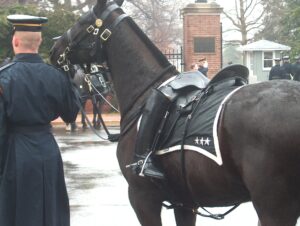 Cap Horse for Lt. Gen. Dunn (3 star general)
Cap Walker leads the cap horse
The Old Guard in formation
riderless horses at National Veterans Day
"Sister program" Patriotism in Action has coordinated presentation of the riderless horse in the National Veterans Day Parade hosted in Birmingham since 2006. That year, our nominee, Lt. General Hal Moore, was honored with the National Veteran Award. We presented two riderless horses in our ceremony and in the parade–a white riderless horses with cavalry boots backwards in the stirrups signifying, this warrior will not ride again, in honor of General Moore. And, we presented a black riderless horse, without boots, with roses, in honor of Julie Moore, signifying the support of spouses and families in our military. Col. Bob Barefield coordinates selection of the horse and the Army handler to lead in preparation and in the two-mile parade route.